Kashi Vishwanath Temple

Kashi Vishwanath Temple, also called Golden Temple,[1] which in its present shape was built in 1780 by Maharani Ahilyabai Holkar of Indore, is located on the outskirts of the Ganges. This temple makes Varanasi a place of great religious importance to the Hindus, as Vishweshwara or Vishwanatha, the aforementioned Jyotirlinga of the Lord Shiva is enshrined here. It is said that a single view of Vishwanatha Jyotirlinga is considered to merit more than that of other jyotirlingas. A Naubatkhana was built up in front of the Temple by the collector Mohammed Ibrahim Khan at the instance of Governor General Warren Hastings in 1785. In 1839, Punjab Kesari, the Sikh Maharaja Ranjit Singh, the ruler of Punjab donated gold to cover the two domes of the temple. On 28 January 1983 the Temple was taken over by the government of Uttar Pradesh and its management was transferred to a trust with Late Dr. Vibhuti Narayan Singh, then Kashi Naresh, as president and an executive committee with Divisional Commissioner as chairman.


Durga Temple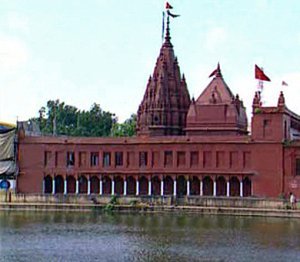 Durga Temple was built at some point of time in 18th century. According to legends, the present statue of Goddess Durga was not made by man but appeared on its own in the temple. Thousands of Hindu devotees visit the Durga temple during Navratri and other auspicious occasions.
The architecture is of Nagara Style, which is typical of North India. The temple is accompanied by a rectangular tank of water called Durga Kund. ("Kund" meaning a pond or pool.) The temple has multi-tiered spires[1] and is stained red with ochre, signifying the red colour of Durga. The Kund was earlier connected to the river itself thus refreshing the water. This channel was later closed, leading to locked water which is replenished only by rain or drainage from the Temple. Every year on the occasion of Nag Panchami, the act of depicting Lord Vishnu reclining on the coiled-up mystical snake or "Shesha" is repeated in the Kund.


Baba Keenaram Sthal– Headquarter and world fame Pilgrim of Aghora scet. Work place of great saint Baba Keenaram. One of the most Visiting Places, of Varanasi, by Researchers, Documentaries Maker,Writers and Tourists.
Vishalakshi temple This temple is dedicated to Vishalakshi (means wide-eyed) or Parvati , the consort of Lord Shiva
Sankat Mochan Temple is dedicated to Lord Hanuman and is very popular with the local citizens.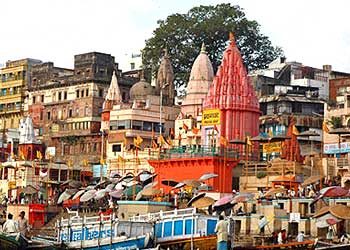 It is a place for many yearly religious as well as cultural festivals. On 7 March 2006, one of the three explosions carried out by Islamic militants hit the temple, while the aarti, in which numerous worshippers and wedding attendees participated, was in progress.
Vyasa Temple at Ramnagar According to a popular Puranic story, when Vyasa failed to get alms in Varanasi he put a curse on the city. Soon after, at a house where Parvati and Shiva had taken human form as householders, Vyasa was so pleased with the alms he received that he forgot his curse.[4] However, because of his bad temper Shiva banished Vyasa from Varanasi.[4] Resolved to be near at hand, Vyasa took his residence on the other side of the Ganges where his temple may still be seen at Ramnagar.[4] The New Vishwanath Temple The New Vishwanath Temple, also called Birla Mandir, mainly funded by Raja Birla of the Birla family of industrialists, was built as a replica of the old Kashi Vishwanath Temple. Planned by Madan Mohan Malaviya, the temple is part of the Banaras Hindu University campus, and stands for national revival. The temple is open to people of all castes and religions.
Tulsi Manas Temple Constructed by family of Varanasi, this modern temple is dedicated to Lord Rama.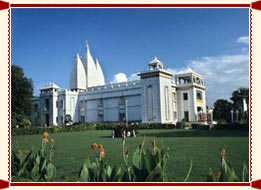 It is situated at the place where Tulsidas, the great medieval seer, lived and wrote the epic "Shri Ramcharitmanas", which narrates the life of Lord Rama, the hero of the Ramayana. Verses from Tulsidas' epic are inscribed on the walls. It is close to Durga Temple.
Annapurna Temple Near the Kashi Vishwanath temple, there is a nice temple of Devi Annapurna, believed as the "Goddess of Fooding". She is a form of Parvati. She is also known as Kashipuraadeeshwari ("Queen of Kasi").
Sankatha Temple Near the Sindhia Ghat, there is an important temple of "Goddess of Remedy" Devi Sankatha. Inside its premises there is a huge statue of a Lion. Also there is nine temples of nine planets nearby to this temple.
Kalbhairav Temple It is the ancient temple of Varanasi near the Head Post Office, VishesharGanj. God KalBhairav is believed as "Kotwal Of Varanasi" , without his permission no one can stay in Kashi.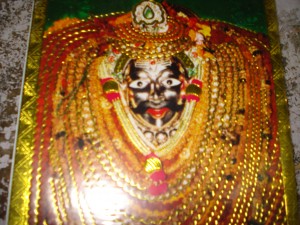 Mrityunjay Mahadev Temple On the route of Daranagar to Kalbhairav temple this temple of Lord Shiva is situated. Just besides this temple there is a Well of much religious importance, whose water is said to be mixture of several underground streams and good for eliminating several diseases.
Bharat Mata Temple The Bharat Mata temple at Varanasi is the only temple dedicated to Bharat Mata. It is located in the Mahatma Gandhi Kashi Vidyapeeth campus. The Bharat Mata temple was built by Babu Shiv Prasad Gupt and inaugurated by Mahatma Gandhi in 1936. The statute of Bharat Mata is built in marble and is a model of undivided India, depicting the mountains, plains and oceans. The most peculiar thing about the Bharat Mata Temple is that instead of the customary gods and goddesses, it houses a relief map of India, carved out of marble.

Markandeya Mahadev,Kaithi
Once upon a time, there lived a sage called Mrikandu with his wife Marudvati. Both were devotees of Shiva. The couple was childless, and so decided to perform austerities so they would be blessed with a child. Then one day, Shiva appeared before them. Shiva asked the couple if they desired an ordinary son who would live a long life, or an exceptional son who would live a short life. The couple asked for the latter.
In due course, Marudvati gave birth to a boy and the child was named Markandeya (literally: son of Mrikandu). Markandeya was an exceptionally gifted child, and became an accomplished sage early in his childhood. He was especially devoted to Shiva, and had mastered the Mahamrityunjaya Mantra. At the age of sixteen, his time on this earth had come to an end, and so Yama, death personified, came to take him away. At the time, Markandeya was in a temple worshipping the icon of Shiva (Shiva Lingam). When he saw Yama, out of fright, Markandeya grabbed a hold of the Shiva Lingam and asked Lord Shiva to protect him. Yama threw his noose around the boy-sage, which encircled the Shiva Lingam too.
Suddenly, the Shiva Lingam burst open with a thundering roar and a majestic, fiery form of Shiva appeared out of the blazing light. Enraged that Yama should have the audacity to encircle the Shiva Lingam with his noose, Shiva struck down Kala (Yama is also called Kala, time, since time brings death to all things) with His trident, and Kala was no more. Markandeya was spared from death. Shiva blessed Markandeya with eternal life and proclaimed that he shall forever remain a sixteen-year-old sage. The assembly of Devas who had witnessed the spectacle begged Shiva to revive Yama, as a world without death would put unnecessary burden on the earth. Shiva then revived Yama, and declared that His devotees were forever to be spared from the noose of Yama.
Since that day, the fiery form of Shiva that appeared to save the boy-sage Markandeya is called Kalasamhara Murti (or Kalari; ).
Meaning of the story
The story as narrated above comes to us from the Skanda Purana. There are other versions of the story that differ in details, but our concern here is to understand what we are being told in this beautiful tale. What does it mean for Markandeya to be saved by Shiva and for Shiva to destroy Kala?
For Markandeya to be saved by Shiva means that Shiva's Anugraha Shakti had descended upon the boy-sage. Markandeya had at a young age attained enlightenment and become a jivan-mukta. He was no more bound by time (kala) or death. He had broken through the cycle of birth and death. Verily, Markandeya had gained oneness with Lord Mrityunjaya and conquered death itself.
For Shiva to destroy Yama and become angry that Yama should have the audacity to encircle the Lingam indicates that Shiva is beyond death and time. He is the Eternal Lord. He is the Ruler of time (Mahakaleshvara); He is the Originator of time (Mahakala) and Destroyer of time (Kalari or Kalasamhara Murti). Time in the story is represented by Yama since time brings death and dissolution to all things, but Shiva brings death to time itself. So, He is called Mahakalakala or Mahakalabhairava. When all things decay, Shiva alone remains. As He alone is beyond death and time, Shiva is called Maha Mrityunjaya, the great Conquerer of Death.
The moral of the story is that we, like the boy-sage Markandeya, should also pray and meditate on Shiva-Mrityunjaya, for He alone can take us unto the state beyond the cycles of samsara:
Aum, O Great Lord Mṛtyuñjaya, I take refuge in You, pray protect me;
And relieve me of the painful experiences of birth, death, old-age and disease.
Aum Kalasamhara-Murtaye Namah.